what's new
"the remedy for dirt is soap & water.
the remedy for dying is living."
25 September 2014
Yesterday, I went on a Google bender to contact my teachers from junior high school, high school and college who all mentored me, believed in me and kept me on the right path. One I couldn't find at all. One is retired, on Facebook, but hasn't posted for 3 years and I sent her a message anyway.

And one died 5 years ago.


The one who died was my speech and interpersonal communications teacher, Professor Patricia Scileppi, then Professor Patricia Kennedy from Riverside City College. When I pulled up the obituary, I saw her smiling face for the first time in a decade. It gutted me. That smile drove me to Huntington Gardens, took me to tea in fancy china cups, ignored my broken nails from carrying dishes at the restaurant, and told me I had talent. Talent? That was something other people have. I'm just - this girl who buys clothes at the Goodwill. She smiled. Said, it's in your words. The ones you write in my class, trying to figure out what it all means.

What was interesting about Mrs. Kennedy, as I knew her, is reading her obituary it said she changed the lives of thousands of students. That is not an overstatement. It is an understatement. She died of cancer at age 63. Hers was a life well-lived. A life that truly made a difference.

I'm going to double the scholarship fund already made in her name.

Don't let it be too late to say thank you to those who have opened your mind.

What catapulted me to honor my former teachers was the death of my friend Madeleine Smithberg's father yesterday and reading how much he was loved and impacted others lives. I never met him, but felt I did through Madeleine's posts.

Mrs. Kennedy was beaten by her husband and divorced him. She knew about my past growing up in an abusive home and she helped me see the beauty in the world again, which I found through writing in her class on interpersonal communication - or writing about my feelings. I was afraid of feeling then, I am not now. Feeling means you are alive. And while I am alive, I want to live.

Whenever you have a chance to make a difference in someone's life. Take it.

Whenever you have a chance to say thank you to those who made a difference in your life. Take it.

Thank you, Mrs. Kennedy. Thank you, Patricia Scileppi.
12 December 2011
NEW YEAR'S EVE is number one at the box office! THANK YOU! But we've really only just begun. Please spread the word for love and light and jump start your holidays with this feel good movie! So much love and hope went into it, you're sure to feel the same love and hope when you walk out of the theatre. Thank you so much for your support! We're spreading the love, one audience member at a time!
12 December 2011
'New Year's Eve' scribe to pen Par/Nick project
Katherine Fugate attached to comedy 'How Could You Do This To Me?'
Posted: Fri., Dec. 9, 2011, 4:02pm PT
By Dave McNary

Fugate
"New Year's Eve" scribe Katherine Fugate has come on to write Paramount/Nickelodeon's comedy "How Could You Do This to Me?"

Paramount confirmed Fugate's attachment Friday.

"How Could You Do This to Me?" was first set at Paramount and Nick in 2009 as a potential star vehicle for Miranda Cosgrove, who stars on the Nickelodeon series "iCarly" and "Drake and Josh." Andy Marx and Andrea King wrote several drafts of the script with Gil Netter ("The Blind Side," "Marley and Me") producing and Dan Halsted exec producing.

"How Could You Do This to Me?" centers on a teen who believes the divorce of her parents has improved her life. When mom and dad appear to be rekindling sparks, their daughter feels threatened and tries to break them up.

Fugate created the TV series "Army Wives" and her feature credits include "Valentine's Day" and "The Prince and Me." She's repped by Gersh.
08 December 2011
All about 'Eve'
'New Year's' preems at the Chinese
By Dave McNary
Posted: Thu., Dec. 8, 2011, 4:00am PT
| | |
| --- | --- |
| | |
| Zac Efron and Michelle Pfeiffer | Lea Michele and Ashton Kutcher join the party at the Chinese |
Nostalgia pervaded Monday's preem of Warner/New Line's "New Year's Eve" at the Chinese as the key players recalled the good, bad and ugly.
"My best New Year's Eve was when I stopped looking for the perfect New Year's Eve," said Hilary Swank at the after-preem bash at Hollywood & Highland. "My worst was when I was trying to drive to the perfect party and didn't get there on time."
Screenwriter Katherine Fugate admitted that her worst New Year's Eve came when she was nearly arrested for speeding -- even though she managed to talk her way out of the ticket. "I think my best will be this one now that I'm in love," she added.
| | |
| --- | --- |
| | |
| Katherine Heigl and Sofia Vergara celebrate with Garry Marshall | Toby Emmerich, Sue Kroll and Jeff Robinov preem "New Year's Eve." |
Garry Marshall opined that this past New Year's Eve was his favorite because his son, Scott Marshall, was shooting footage as a second unit director at Times Square.
"I was there in 1956 and 1959 because I grew up in the Bronx, but this was the best since all I had to do was sit in a room and watch 14 cameras and say, 'Well, that one looks really great,' " quipped the helmer.
Marshall is planning to take his family to Hawaii for New Year's Eve, followed by a knee replacement operation. "I've been holding off on it since I really couldn't direct this movie on crutches," he added.
07 December 2011
NEW YEAR'S EVE TRAILER!
06 December 2011 -- teaser for now, blog to follow!
03 December 2011
Here is my on camera interview from the press kit for NEW YEAR'S EVE.
Be sure to check out the rest of the press kit interviews here!
12 October 2011
Spielberg, Hanks and Winfrey Join Forces with First Lady, Starring in Public Service Announcement Campaign Supporting Military Families
Major TV Networks Commit to Broadcasting PSAs to Support Joining Forces
Washington, D.C. - In response to First Lady Michelle Obama and Dr. Jill Biden's Joining Forces program, a national initiative to support and honor America's service members and their families, the entertainment industry's Inter-Guild Joining Forces Task Force today released new public service announcements (PSAs) featuring Steven Spielberg, Tom Hanks and Oprah Winfrey. The American Federation of Television and Radio Artists, Directors Guild of America, Producers Guild of America, Screen Actors Guild and the Writers Guild of America West formed a Joining Forces Inter-Guild Task Force to provide creative and production support for Joining Forces and to inform and inspire their memberships about the service of America's military families.
The new PSAs, which were written, directed and produced by members of the Task Force, tell real stories about America's military families and call on all Americans to give back to ensure service members and military families have the support they have earned. Last June, the Guilds hosted the First Lady for a special Joining Forces event in Los Angeles to discuss the stories and issues of today's military families so that their experiences can be integrated into film, television and digital media. These PSAs are a direct outcome of the commitments that were made by the Inter-Guild Task Force to the First Lady in Los Angeles. A + E Networks, CBS, Comcast NBC, Disney ABC, FOX, and WB have agreed to support the PSA campaign.
The PSAs feature a call to action from the First Lady to encourage Americans to get involved to support military families by visiting www.joiningforces.gov. This website's resources were recently revamped to include thousands of additional opportunities for Americans to volunteer in their own communities. This website enhancement was supported by the Inter-Guild Joining Forces Task Force and included significant contributions from major organizations including Blue Star Families, the Points of Light Institute, All For Good, the American Red Cross, Service Nation, and the Corporation for National and Community Service. Visitors can send messages of thanks, find opportunities to get involved and share stories of service.
The Inter-Guild Joining Forces Task Force is led by Academy Award-winning producer Bruce Cohen, who assembled the production teams to create the campaign. The PSAs feature star power on camera and behind the scenes with Invictus producer Lori MCreary; Academy Award-winning composer Hans Zimmer; Army Wives creator Katherine Fugate; Lost creator and executive-producer, Damon Lindelof; and Director Tom Shadyac known for his work in Ace Ventura, Bruce Almighty; among many others.
"The entertainment community answered the Joining Forces call and has done what they do best – bring to life stories that move us," said First Lady Michelle Obama. "Through this PSA campaign, Americans will learn more about the unique challenges and needs of our military families, see their strength, resilience and service, and find out how they can give back to these extraordinary troops and families who have given us so much."
"As a military mom I know just how much it means when people reach out to show their support for our service members and their families," said Dr. Jill Biden. "The First Lady and I hope that this campaign will inspire more Americans to take action and reach out to military families in their own communities around the country."
"It is a tremendous honor for the guilds to be participating in this incredibly important initiative" said producer Bruce Cohen. "The phenomenally talented members of the creative team behind these PSAs are all hoping that people across the country will be inspired to get involved."
First Lady Michelle Obama and Dr. Jill Biden created Joining Forces to bring Americans together to recognize, honor and take action to support military families as they serve our country and throughout their lives. The initiative aims to educate, challenge, and spark action from all sectors of society to ensure military families have the support they have earned. The initiative focuses on key priority areas – employment, education, and wellness while raising awareness about the service, sacrifice, and needs of military families.
Inter-Guild Joining Forces PSA Creative Teams:
Producer: Lori McCreary, producer of Invictus
Co-Producer: Leif Lillehaugen, producer of War of Words
Composer: Hans Zimmer, composer of The Lion King, Madagascar, Shark Tale, The Prince of Egypt, The Road to El Dorado, Gladiator, Pearl Harbor, As Good as it Gets and Thelma & Louise
Task Force co-chair: Wendy Smith
Writer: Katherine Fugate, creator of the Lifetime series Army Wives
Producer: Marshall Persinger, executive producer of Army Wives
Director: Joanna Kerns, director of Army Wives, and Grey's Anatomy
Writer: Damon Lindelof, writer, creator and executive-producer of Lost
Producer: Jason Taragan, associate producer of Paul Blart: Mall Cop
Director: Steve Carr, director of Paul Blart: Mall Cop, Next Friday, and Dr. Dolittle 2
Writer & Director: Tom Shadyac, director of Ace Ventura: Pet Detective, Liar, Liar, Bruce Almighty, and Evan Almighty
14 July 2011
BIRTH DAY
I woke up this morning thinking about my mother. She died when I was in a my early 20s. Her life was filled with turmoil and unrest. Both a man she married and alcohol beat her regularly. For the last 5 years before her death, we were estranged. Yet two weeks before her death, we had reunited, albeit it warily, in a hospital room after she had surgery to break up the alcohol-induced cysts that riddled her body, having no other way to get out. When I woke up this morning, my daughter slept peacefully beside me, having snuck into my bed in the middle of the night. I looked her at softly, the blonde curls, dark lashes on pale skin, the twitch of a smile from a dream unknown, and I knew that despite it all my mother loved me. My mother too, had woken up to a sleeping 4 year old in her bed, and pulled the covers of her shivering body.
Today is my birthday. Long ago in another hospital room, my mother held me for the first time. My mother looked down on me, full of dreams and hopes. As parents, we all dream and hope our child will grow to outshine us, to out reach us, to out dream us.
And now, I carry my mother with me, trying to live the best life, the fullest life, I can live to honor her. I have stumbled. I have crashed to the ground. But I keep getting up, knowing I hold the torch now. I must cross the finish line strong. For me - and for her.
We all get bruised and battered along the way. We all doubt, question, lash out, love out and long. They say, that you should live your birthday the way your want your year to play out. To set the intention now.
Today, I told my daughter she is my gift. She is my wish come true. Today, I will randomly P-Sup, letting the people in the world know we are all gifts. Tonight, I will surround myself with friends and family, setting my intention to love and be loved.
Which starts with all of you reading this. You are loved. Greatly and dearly. By me.
Spread the love. Prize the Surprize. Please, never forget who you are. And in case you need a reminder, you are the person who gets up and finishes strong.
For all of us.
I WAS HERE
Words and Music
By Diane Warren
I wanna leave my footprints on the sands of time
Know there was something that
meant something that I left behind
I'll leave something to remember
I did, I've done everything that I wanted
And it was more than I thought it would be
I will leave my mark so everyone will know I was here
I wanna say I lived each day
And know that I meant something in somebodys life
The hearts I have touched
Will be the proof that I leave that I made a difference
I did, I've done everything that I wanted
And it was more than I thought it would be
I will leave my mark so everyone will know I was here
Brought someone some happiness
Left this world a little better just because
13 July 2011
Pre-Birthday Message
A day before my birthday and full of reflection. They say the best way to live your birthday is to live it how you want your next year to look - to set your course and intention. I plan to live mine surrounded by love. In that spirit, here is my birthday wish to all of you:
"Life is too short to wake up in the morning with regrets, so love the people who treat you right, forget about the ones who don't, and believe that everything happens for a reason.
If you get a chance, take it. If it changes your life, let it.
Nobody said it would be easy, they just promised that it'd be worth it." ~Anonymous
More tomorrow...
14 June 2011
Look for me LIVE on MSNBC today spreading the word about JoiningForces and giving back to our military families. Between 11:30am-12pm PST on Tamron Hall's "NewsNation" show!
14 June 2011
More press on the JoiningForces Event, pouring in today. From the LA Times and Deadline Hollywood.
FROM DEADLINE HOLLYWOOD:
A plan for a series of public service announcements targeting first lady Michelle Obama's "Joining Forces" initiative was unveiled today during a panel sponsored by the Hollywood guilds designed to create a dialogue about ways to share the stories of military families through film, television and digital media. Nearly 500 members of the Hollywood creative community attended the event at the Writers Guild Theater in Beverly Hills; the panel was moderated by J.J. Abrams and featured Obama as well as Army Wives creator Katherine Fugate. From the press release on the PSAs:
Joining Forces' upcoming series of targeted PSAs will star Academy Award-winning actor Tom Hanks, Emmy Award-winning talk show host Oprah Winfrey, and Academy Award-winning director/producer Steven Spielberg and are set to air starting this July. Hanks' PSA was written by Damon Lindelof, directed by Steve Carr and Joanna Kerns, and produced by Jason Taragan; Spielberg's PSA was written by Katherine Fugate, directed by Joanna Kerns, and produced by Marshall Persinger; Winfrey's PSA will be directed by Tom Shadyac (producer and writing credits TBD); all three PSA's were executive produced by Lori McCreary.

In addition, Grammy Award-winning and Oscar-nominated songwriter Dianne Warren has donated an original, unreleased song, entitled "Compass" and performed by Grammy and CMA Award-winning country superstars Rascal Flatts, for use in the PSA campaign.
It was one of several stops in town for Obama, who tonight will attend a 2012 re-election campaign fundraiser for her husband. She also taped an appearance on Nickelodeon's iCarly to promote "Joining Forces." The show's lead character is the daughter of a U.S. service member stationed overseas.
FROM THE LA TIMES:
Michelle Obama makes fundraising swing through Southern California
At one stop, she pleads with the entertainment industry to tell the stories of military families. The first lady is expected to hit the trail regularly as the campaign heats up.
Michelle Obama sits on a panel with Capt. Kelly Smith, National Guard aircraft commander, as Smith's pilot sister appears via Skype from Afghanistan. (Mark Boster, Los Angeles Times)
"We've gone from an economy that was on the brink of collapse to an economy that is starting to grow again," she said. She mentioned the healthcare overhaul and the repeal of restrictions against gay service members. She praised "justice" in the
killing of Osama bin Laden
and cited the withdrawal of troops from overseas.
"We are responsibly ending the war in
Iraq
and have brought home 100,000 servicemen and women," she said.
The first lady, a constant campaign presence in the 2008 race, is expected to be deployed regularly as the reelection campaign heats up. Even as her husband's popularity has ebbed in the two years since he entered office, she remains one of the most popular figures in Obama's circle.
Then, as now, she serves to humanize a president often criticized for his cool demeanor. She did so Monday, describing at the Pasadena event the anxieties that come with the nation's highest office.
She described late nights at the
White House
, "after we've put the girls to bed," when the president sits hunched at a desk, reading letters from Americans about their problems.
"I see the sadness and the worry that's creasing his face," she said.
In the evening, the first lady attended a fundraiser at the Westwood home of Michael S. Smith and James Costos. Smith, a designer, decorated the White House when the Obamas moved in. Costos is an executive at
HBO
.
Ryan Phillippe
,
Drew Barrymore
,
Ellen DeGeneres
,
Vanessa Williams
and
Brian Grazer
were among about 380 people who attended. Tickets ranged from $1,500 to $35,800.
The money from both fundraisers goes to the Obama Victory Fund, a joint venture of the campaign and the Democratic National Committee.
Earlier in the day, Michelle Obama took up one of her favorite projects — helping military families — and called on Hollywood's creative community to do more to bring their stories to viewers.
She told 500 people crammed into the Writers Guild Theater in Beverly Hills that the sacrifices and challenges facing military families deserved more attention — and that one of the best ways of drawing that is through movies and TV shows.
"The work isn't that hard because the stories are already compelling," Obama said. "So I would urge you to do what you do best: Be creative. Be funny. Be powerful. Move us. Move America to think differently about these families and our men and women who serve so graciously."
At the event, organized by a task force representing Hollywood's talent guilds, Obama spoke on a panel moderated by director
J.J. Abrams
. The guilds recently pledged to support the first lady's "Joining Forces" initiative that promotes volunteering to assist military families.
The effort includes three public service announcements performed by
Steven Spielberg,
Tom Hanks
and
Oprah Winfrey
, each describing how families of troops are coping with deployments.
The PSAs are scheduled to run in July on TV and in theaters.
This is "our way of giving back to so many who've given so much to us," said Katherine Fugate, creator of the cable show
"Army Wives"
and a volunteer in the effort.
To promote the cause, Obama said, she was preparing to record a few lines Monday for a brief appearance on an upcoming episode of the
Nickelodeon
comedy
"iCarly,"
whose lead character is a military kid whose father has been deployed.
When Abrams asked about her television appearance, Obama said: "Let's just say I'm the coolest mom on the face of the planet. Can you believe we have friends of my children who don't believe I'm going to be on 'iCarly'? But I was like, 'Look, I've stayed in Buckingham Palace. Why is this such a huge leap?' "
Joining Obama on the panel were military families, including retired
U.S. Army
Sgt. Robert Jarman from Ft. Irwin, who raised four children while his wife was deployed on her second tour in Iraq; and Capt. Kelly Smith, a National Guard aircraft commander, who was connected live via
Skype
to her sister, a combat pilot in Afghanistan.
Smith quibbled a bit with how the military is portrayed in Hollywood — the uniforms are often incorrect, she said — but praised one film in particular for its depiction of troops.
"One of my favorite portrayals is
Will Smith
in 'Independence Day,' " Smith said. "He just kicked butt."
In one of her first political stops since her husband announced his reelection bid, First Lady
Michelle Obama
hit the campaign fundraising circuit in Southern California on Monday and also pleaded with the entertainment industry to bring the story of military families to the big and small screens.
At a $1,000-per-person lunchtime fundraiser in Pasadena, she lauded
President Obama
's accomplishments.
13 June 2011
AMAZING event this morning. Words aren't available yet. But wow. Emotional, moving, informative, message was sent by the First Lady and the Military Families to shine a brighter light on military issues in our TV shows and our films. To find more ways to say thank you to those who have served us so well. Now it's time for Hollywood to answer the call!
Story in VARIETY:
First lady puts focus on military families
Mrs. Obama also slated for 'iCarly' cameo, pair of fund-raising stops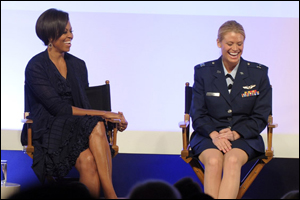 Michelle Obama and Air Force Pilot Captain Kelly Smith
First lady Michelle Obama encouraged Hollywood's creative community Monday to consider putting more stories of military families into their projects.
Obama appeared at a Beverly Hills event sponsored by five industry guilds as part of a campaign called Joining Forces, which aims to bring more attention to the needs of military families. As part of her trip, she was scheduled to tape an appearance on Nickelodeon's "iCarly" this afternoon.
"I want the conversation to be different," she told an audience at the Writers Guild Theater. "I want the military families to feel the support on the ground."
During the event, she sat on a panel moderated by J.J. Abrams that included three members of military families.
Obama's visit to Los Angeles also was to feature a noontime fund-raiser in Pasadena and an evening reception at the home of designer Michael Smith and HBO executive James Costos to raise money for her husband's re-election campaign.
One component in the Joining Forces campaign is an interguild task force made up of the Writers Guild of America, the Directors Guild of America, the Screen Actors Guild, the Producers Guild of America and the American Federation of Television and Radio Artists.
Obama said the creative community has "already stepped up in so many ways already," but she suggested that it still has been difficult in getting the public's attention.
"I think we are very proud that one of the things that Hollywood really does do, on occasion, but actually often, is make a difference. That is what we are here to do today," said producer Bruce Cohen, who is coordinator of the task force.
He was joined by Katherine Fugate, creator of "Army Wives," who outlined a series of steps in the works including public service spots featuring Steven Spielberg, Tom Hanks and Oprah Winfrey and military families that will launch nationally in July. Songwriter Dianne Warren has composed an original song, "Compass," to be sung by Rascal Flatts.
"My work on 'Army Wives' has helped me understand that behind every soldier is a family that serves," Fugate said.
Obama chose to do a cameo on "iCarly" because the show's lead character is the daughter of an Air Force colonel. She said she was "terrified" to be acting, but also quipped that her daughters' friends "didn't believe" she was going on the show, one of their favorites.
"I said, 'Look, I stayed overnight in Buckingham Palace, why is it so hard to believe?'?" Obama said to laughs.
9 June 2011
WHITE HOUSE NEWS
More information on First Lady Michelle Obama's visit to Los Angeles on Monday to discuss the JoiningForces campaign and helping us all find ways to say "thank you" to our military families for their service. From today's VARIETY:
By: Ted Johnson
Published: Thu, June 09, 2011, 10:40 AM
J.J. Abrams will be the moderator on Monday when First Lady Michelle Obama holds an event in Beverly Hills with Hollywood's guilds to promote her Joining Forces initiative, designed to boost support for military families.
Also joining Abrams will be Katherine Fugate, creator of "Army Wives." The event, being held at the Writers Guild Theater, is hosted by Writers Guild of America West president John Wells, Fugate, and writers Dustin Lance Black, Geoffrey Fletcher and Damon Lindelof.
In addition to the WGA, other guilds taking part in the initiative include SAG, AFTRA, the DGA and the Producers Guild of America.
Read more: http://www.wilshireandwashington.com/2011/06/jj-abrams-will-moderate-guilds-michelle-obama-event.html#ixzz1OpEfzPt4

16 May 2011
FAMILY NEWS
Here are a few photos from the Jeannie Out of the Bottle book release celebration for Barbara Eden as well as honoring the Hollywood Schoolhouse's fundraising efforts to provide scholarships to children who might otherwise not be able to attend!
16 April 2011
We have revamped the Blogs section so that each blog has comments enabled, so please post your thoughts or questions! I love reading them. Also, I have made 2 albums of a collection of photos for New Year's Eve (Movie) and Joining Forces - Washington DC. Here are the links! Have been levitating all week from my adventures, truly grateful for these amazing experiences.
Walking the streets of DC, I am reminded of all we can accomplish as a country when we join together. To read the powerful quotes over the centuries of hopes and dreams and equality. I hope to update you all soon with concrete steps on how we can all support our military families in the simplest of ways. But first, remember most military families don't live on a post or base. So look closer at the child in your classroom whose father is at war, the man in the hardware store whose daughter is serving - military families touch our lives in everyday situations. We can touch theirs by offering to mow a lawn or watching the children one night so a wife/mother can be alone for a drive by the sea just to feel her feelings. There are so many gestures of support we can make. Let's be creative and honor their sacrifice.
New Year's Eve will open December 9th, 2011. I have a prop from the set. When I put on the big blue Nivea hat worn by revellers in the street, dated New Year's Eve 2012, I felt like a time traveler. Imagine you on New Year's Eve this year. We're counting down to 2012 - 10, 9, 8 - counting down to a New Year, New Beginnings, a Fresh Start. Imagine yourself, standing in that street, smiling, full of hope. What does your life look like on December 31, 2011? Who would you like to be with? What dream have you now made come true? Professionally and personally? Chart your course now. If you want to be in Vegas, you get on the 10 Freeway and you head to Vegas. If you're driving on the 5 North to San Francisco, don't be angry or surprised when you don't see the Luxor's light beam. So be aware of where you are headed. Then get into your car and drive, destination NYE 2011.
NEW YEAR'S EVE MOVIE PHOTO ALBUM:
JOINING FORCES - WASHINGTON DC PHOTO ALBUM:
12 April 2011
Amazing. Once in a lifetime. Emotional. Humbling. Motivating.
'Army Wives' scribe joins forces with White House
Joining Forces to connect biz, military
Screenwriter Katherine Fugate (''Army Wives'') is helping to launch Joining Forces, a national call to action in support of military families being led by First Lady Michelle Obama and Dr. Jill Biden.
The White House said Tuesday that Joining Forces will work with the major entertainment guilds (the Directors Guild of America, the Screen Actors Guild, the Writers Guild of America and the American Federation of Television and Radio Artists) along with Sesame Street, NASCAR, AandE Lifetime Networks, AOL, USO, Nickelodeon, the Country Music Channel, Disney ABC, Pixar and Major League Baseball on ongoing public awareness campaigns about military families.
''Joining Forces was created to recognize and serve our nation's extraordinary military families who, like their loved ones in uniform, serve and sacrifice so much so that we can live in freedom and security,'' said Mrs. Obama. ''This is a challenge to every segment of American society not to simply say thank you but to mobilize, take action and make a real commitment to supporting our military families.''
The White House noted that the Joining Forces initiative builds upon President Obama's directive to establish a coordinated and comprehensive Federal approach to supporting military families. That report details nearly 50 commitments from Cabinet Agencies to reform, strengthen, and better coordinate the gGovernment's support for military families.
Fugate, a member of the WGA West's board, created and exec produced Lifetime's ''Army Wives,'' centered on the struggles of military families living on an Army base.
''The soldier and the families all serve together,'' Fugate said. ''They are all our heroes and we owe them a lifetime of gratitude.''
The WGA West said Tuesday that it's participating in the Joining Forces initiative by conducting a series of workshops connecting Hollywood's TV and screenwriters with military families and veterans to share their experiences.
''Hopefully, through this increased awareness, more writers will be motivated to tell the stories of these everyday people, who through their daily sacrifices, challenges, triumphs, and tragedies become extraordinary Americans who inspire us all,'' Fugate said.
5 April 2011
NEWS
Here is more on the event at the White House that I will be attending. I've never been to the White House nor have I ever received a formal invitation to the White House. I'm filled with gratitude at the military families who have shared their stories so openly with me in creating Army Wives and at this new opportunity to share those stories of honor, strength, bravery and hope.
But also, the reminder that we are all in this together, and by "this" I mean life itself. We're born alone, we die alone so it's the friends and lovers we meet along the way that challenge, shape and define us. They help us grow and decide where we will put our energy, what goals we will set, and who we will be - in life and to each other. I stared at the invitation in wonder. Sometimes am just breathless by the beauty of it all.
Michelle Obama, Jill Biden to focus on vets' families
WASHINGTON -- First Lady Michelle Obama is going to step up her support for military families, launching a national drive on April 12 — along the lines of her "Let's Move" anti-obesity campaign — to highlight her new initiative.
Mrs. Obama is partnering with Dr. Jill Biden, the wife of Vice President Joe Biden; the two women have been headlining military family events since the beginning of the Obama administration. While assisting military families has long been in Mrs. Obama's portfolio, her speeches and events related to obesity have overshadowed her military work — being done at a time the nation has been in two wars, and now has a third, in Libya.
The anticipated high visibility roll-out, long in the planning, has been delayed a month. "We've got military families. We've been laying the foundation for that. You're going to be watching a pretty big initiative in March," Mrs. Obama told her beat reporters on Feb. 8.
In a statement, the White House said Mrs. Obama's "initiative aims to educate, challenge, and spark action from all sectors of our society — citizens, communities, businesses, non-profits, faith-based institutions, philanthropic organizations, and government ­— to ensure military families have the support they have earned.
"In the days following the launch, Mrs. Obama and Dr. Biden will travel across the country to highlight the courage and strength of our military families, and the ability of our veterans and military spouses to strengthen our communities. They will also meet with men and women who are taking action, and lending a hand to those that have served our nation."
5 April 2011
FAMILY NEWS
Barbara Eden's memoir, JEANNIE OUT OF THE BOTTLE, hit the shelves today and Barbara has hit the talk show circuit sharing stories about life on the Jeannie set and life behind the scenes, with the very painful death of her son, my cousin, Matthew, to an accidental heroin overdose.
The book was a cathartic journey for Barbara, who shared with me that she felt all stories have value and all need to be told. You just never know who you could touch with yours. When I asked her why she was reliving such a painful time, her words were, "Someone should know." And it was the first two paragraphs of a blog I was writing this month, but wasn't able to finish in time. So for now, we all have the need to share what we experience, what both breaks us and inspires us. "Someone should know" - and now they do with this very personal journey that opens the door to drug addiction and how when addictions run your life, you're not free.
Here is the video of her appearance today:
26 March 2011
NEWS
An extraordinary honor has come my way. Many of you were able to catch our First Lady Michelle Obama appearing on Oprah sharing her emotional experiences meeting our military families. Now, I have been invited to the White House to further shine a light on the sacrifices our military families make. It is an extraordinary honor to speak with the President and the First Lady as I act as an emissary to all the amazing stories of love, sacrifice and courage that have enveloped the heart and soul of "Army Wives."
I am truly speechless and I think we all know how rare an occurrence that is...
Here is the link to the Oprah episode for those who have missed it: FIRST LADY ON OPRAH
23 March 2011
FILM
The film that I worked in Madrid (and subject of the blog "That's How Spain Rolls") has now been released on Amazon, Netflix, etc. The film centers on the love story of two women - one Spanish, one Russian - complete strangers who in a chance encounter in Rome meet and have an instant connection and end up spending a romantic, revealing night together. The bond is intense, but they both have very different lives, so it asks the question: Do you give it all up for someone you just met? Do you believe and trust love at first sight?
Directed by the wonderfully talented and unique artist, Julio Medem of "Sex and Lucia."
To order on Amazon: Room in Rome
To view the Trailer on YouTube: ROOM IN ROME TRAILER
20 March 2011
WGA NEWS
Here is the announcement by the WGA:
Dear WGAW Member,

We are pleased to inform you that our negotiators have concluded a tentative agreement with the Alliance of Motion Picture and Television Producers. Talks began on March 3 and ended today at 3:30 p.m. The three-year deal features significant gains in contributions to our pension fund, improves payments in Pay TV residuals, increases our minimums, and takes steps to address important workplace issues for screen and television writers. Your Negotiating Committee will meet tomorrow to officially vote on sending the tentative agreement to the WGAW Board of Directors and WGAE Council for approval prior to member ratification.

Negotiating Committee Members

John Bowman (Committee Co-Chair)
Billy Ray (Committee Co-Chair)
Chris Albers
Alfredo Barrios, Jr.
Andrew Bergman
John Brancato
Adam Brooks
Patti Carr
Tim Carvell
Jonathan Fernandez
Katherine Fugate
David Goodman
Chip Johannessen
Warren Leight
Damon Lindelof
Julie Martin
Ron Moore
Jeff Nathanson
Jeremy Pikser
Shawn Ryan
Melissa Salmons
Stephen Schiff
Mike Scully
Thania St. John
Steve Zaillian

7 March 2011
VARIETY STORY
Take me to the Mardi Gras
Bizzers celebrate Lundi Gras
By Variety Staff
A hearty bon temps rouler goes out to screenwriter Katherine Fugate, who will ride through the streets of New Orleans this evening on a float in the parade mounted by the Krewe of Orpheus to celebrate Lundi Gras, the night before Mardi Gras.
Fugate, the scribe behind "Valentine's Day" and Lifetime's "Army Wives," has deep family roots in the Crescent City. Also featured in the Krewe of Orpheus parade will be "Treme" creators David Simon and Eric Overmyer and the cast of the HBO drama series, including Wendell Pierce, Clarke Peters, Kim Dickens and Melissa Leo.
1 March 2011
ON CAMERA INTERVIEWS
Just posted are two on camera interviews I did with actress-director Renee O'Connor.
Part 1 is on Love. The startling realization of how deeply you are in love, the devastation of a break-up, then finally through pain and growth, finding a new level of gratitude that love happened at all. Raw, emotional and honest.
Part 2 is on my Career. From waitress to screenwriter. The lessons of impermanence, beauty, Prize the Surprise and the importance of making dreams - yours and others - come true.
Registration is free, but you must sign up to watch the interviews.
15 February 2011
An AMAZING Valentine's Day as I armed myself with chocolates, cards and red tissue paper and left gift bags on doorsteps all over LA. Truly living the Ashton Kutcher life of leaving anonymous or unexpected gifts to cheer the soul and bring us all back to love love love. Prize the Surprise Indeed!
Thank you for following my adventures on Facebook and cheering me on whenever I was thwarted by parking restrictions, security gates, yapping dogs or Subjects sitting in their living room window!
WE DID IT and hopefully we changed some hearts and embolden some lives to just GO FOR IT!
That said, from Cupid to Career Woman - don't forget to attend the WOMEN IN HOLLYWOOD PANEL tomorrow night at CAA at 8pm. See the flyer below! I promise to spill all the dressing room secrets I know - but also to leave you inspired. Be the tenacious crab and don't give up! Your dreams can be a reality! See you tomorrow night!
A LOVE NOTE
14 February 2011
It's Valentine's Day. Despite it all, despite the occasional heartbreak, the broken promises that stain the heart, the forevers that sometimes don't last a day, I still believe in love. I keep my old love letters in a box in the attic. The pictures are tucked away, too. And yes, I keep the memories in my heart, even the ones that cause pain, because love always forms me. Shapes me, delivers me into a newer, kinder, wiser, more loving woman. I never regret reaching out my hand to another human being, as complicated as it may be, in the hopes of creating love. Because I know, when the sun is setting and I'm sitting in my rocking chair on the porch of my last day, it will be the moments of brilliant, blinding love that I will wrap my arms around and take with me into that next life.
"Love is the most shocking act left on the planet." Yes, it's from the movie. Yes, I wrote that. Because of all the things we can't control in this world - wars, hurricanes, earthquakes - Love is still the most shocking act on the planet. It is still the most unexpected, jarring, unsettling, deliciously confusing, confounding SHOCKING feeling on earth.
Love sweeps in and coats our body like a jasmine-scented oil. Our skin feels like warm, fresh bread. Our hearts beat louder than a rap song from inside dark-tinted windows at a stop light.
Our soul rejoices, skipping the light fantastic, for it knows, even when we forget, why we are all really here. To love and be loved, it's as simple and as complicated as that.
So here's my Valentine's Day Challenge: Go out there today and step outside your comfort zone. Commit a spontaneous act of love. A random act of romance. Be bold, be brave. Because you never know whose life you will change - maybe even your own.
Best story posted here, on Facebook or Twitter wins a box of Godiva Chocolates!
Love. Love. Love. Stay in love today.
(ps. i'm off to do some random acts - watch your back!)
KATHERINE NEWS
3 February 2011
i
I am part of the WOMEN IN HOLLYWOD PANEL to be held Wednesday, February 16th at 8pm at CAA, moderated by Cynthia Littleton of Variety. I feel I qualify for this panel because I am a woman and I live in Hollywood. Seriously, it does mean my hair better look good and I better wear great shoes. This panel is geared to those just starting out in the business and should be chock full of girl wisdom.
Here's the information: Women in Hollywood Panel
CASTING NEWS
31 January 2011
Katherine Heigl rings in 'New Year's Eve'
Katherine Heigl's replaced Halle Berry in "New Year's Eve," joining the cast of New Line's ensemble comedy.
Production starts this week for "Eve," with Garry Marshall directing. Other cast includes Jessica Biel, Jon Bon Jovi, Abigail Breslin, Robert De Niro, Josh Duhamel, Ashton Kutcher, Lea Michele, Sarah Jessica Parker, Michelle Pfeiffer, Til Schweiger and Sofia Vergara.
Biel and Kutcher were in Marshall's "Valentine's Day," but the characters from that New Line pic won't be in "New Year's Eve" -- which will be set in New York and follow intertwining stories of characters trying to navigate their way through romance on New Year's Eve.
"Valentine's Day" producers Mike Karz and Wayne Rice are producing "New Year's Eve" with screenwriter Katherine Fugate returing. New Line has given "New Year's Eve" a Dec. 9 release date.
Heigl will be seen next as Stephanie Plum in "One for the Money," due out July 8.
KATHERINE NEWS
31 January 2011
Fantastic time at the Xena Convention this year. Last year, was the mad dash to the Saints Superbowl, then back in time for the red carpet premiere of Valentine's Day, 18 hours later - so this year, I wanted to give the audience a little something extra, so I penned a play full of insider jokes and inappropriateness, then talked a smashing set of guest stars to appear on stage for the reading, most of them playing themselves or their characters from the TV series. One moment backstage, FRANCES FISHER asked me, "What does 'I have many skills' mean?" I said, "Trust me. Just say it!" :)
Thank you to all those who showed up, generously giving your talent, laughs and love!
CASTING NEWS
28 January 2011
Josh Duhamel to Appear in 'New Year's Eve'
By Joshua L. Weinstein
Josh Duhamel is confirmed to appear in "New Year's Eve," TheWrap has learned.
The "Transformers" star will appear in the New Line Cinema ensemble comedy about couples and singles whose lives intertwine one New Year's Eve in New York.
Garry Marshall is directing. Katherine Fugate wrote the screenplay.
Robert De Niro, Ashton Kutcher, Sofia Vergara, Halle Berry, Zac Efron, Jessica Biel, Michelle Pfeiffer, Abigail Breslin, Hilary Swank, Sarah Jessica Parker and Sienna Miller also are set to appear in the movie.
Duhamel, 39, starred in the television series "Las Vegas." He played Major William Lennox in the 2009 "Transformers: Revenge of the Fallen." He is set to play the same character in "Transformers: Dark of the Moon," coming out July 1, 2011.
***ALSO ADDED: Bon Jovi, Seth Meyers, Ice Cube, Ryan Seacrest, Frankie Muniz.
MESSAGE
25 December 2010
today, we celebrate the beauty and miracle of birth - your own, your lover's, your child's.
so much to feel blessed about when you open your eyes and look around you, breathe in, feel the wonder, feel the love, feel the birth of the world.
stay in the love.
a gorgeous, yummy, warm holiday season to you and yours - and to all who read this, thank you for sharing this corner of the world with me. our journey has been such a rich one and i am so grateful for all of it.
merry christmas, happy holidays and much love,
katherine xx
INTERVIEW
18 December 2010
Brand new interview where I talk Saints, Love, Life, NYE, Andrea LaHue, Patricia Velasquez and that whole Universe thing!
Screenwriter and Philanthropist
I met with Katherine Fugate, writer of the megahit film Valentine's Day, to discuss her work, her life, and her passion for philanthropy. Like her movies, she is warm, charming, and full of positive verve. Katherine is one of a select handful of women writers to ever have a #1 movie at the box office... Read more at:
Women You Should Know: Katherine Fugate by Moira Murphy
INTERVIEW
5 December 2010
Remember that amazing trip to France I took in September? Read the story about our adventures in the Sunday Calendar section of the LA Times!
Hollywood will always have Paris (and is being offered the rest of France)
Free annual trips to different regions of the country aim to inspire the writers in their work as France tries to lure more movie production away from other European countries.
Some things are just done differently in France. Take the invitation of 10 successful Hollywood screenwriters on an eye-popping, all-expenses paid, eight-day trip to rural France in exchange for, well, nothing.
The guests were suspicious from the get-go. Why, after all, would anyone offer them a dream trip to two regions of France that they knew little, if anything, about? click here to read more ...

BLOG
29 November 2010
The Week I Was Dying of Cancer

Truth be told, I was driving and texting when she called. I was plotting my first foray into film directing and emailing my D.P. about Dutch angles when the phone rang. I hit the button on the steering wheel, activating my Bluetooth, marveling still that at a flick of a switch, a voice can suddenly encompass my car in stereo.
We have the results of your blood test. I had recently been to my gynecologist for my annual exam, fearful I may be stepping my toes into the mysterious land of perimenopause and other foreign maladies.

She said, we need you to come into the office. I had never been told to come into the office before.

Read More »
We were never meant to be in Paris, but a train strike diverted us, and we had 5 minutes to see the Eiffel Tower, my favorite landmark in all the world, adversity turning into something wonderful. This is my first Flip! video, haven't learned how to make the titles yet, but she's called:
accidental paris
After 30 hours of no sleep, jetlagged, quiche lorraine and multiple glasses of red wine, we stepped into hot air balloons and flew over the city of Metz, France. Magic.
the balloon
In the land of mechanical animals and giant spiders, comes the mechanical elephant. Nantes, France, home to an extraordinary man, François Delarozière, who dreams big and makes it come true...all to amaze and delight others.
the mechanical elephant
you can read previous blogs in the blog index